Church of Hed — The Autumn Shrine EP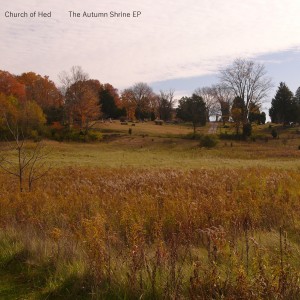 Buy it on Digital from CD Baby
Buy it on Digital from Bandcamp
Buy it on Digital from Apple iTunes
The Autumn Shrine EP, Church of Hed's fourth release, is centered on the nearly 14 minute title track, a Floydian spaceprog epic essentially serving as a requiem for Quarkspace. A Philip Glass-inspired Moog improvisation and a beat-laden electronica track from the Electric Sepulcher sessions (Church of Hed's third album) round out the EP. Paul plays everything on the album, from electronic percussion to analog synthesizers. This is a digital-only release available from the usual sources — Amazon, iTunes, CD Baby, Spotify, etc.
The Autumn Shrine (Parts I-III) 13:45 (Floyd rides a Camel to Berlin School — a requiem for Quarkspace?)
Silicon Rogue 3:20 (Bob Moog meets Philip Glass.)
Transaxiom 5:06 (Brian Eno warps from 1975 to today with an appropriate bass response.)
Synths: Moog Sub 37, Korg Z1, Korg Prophecy, Korg Volca Keys, Korg Volca Bass, Korg Monotribe, Yamaha MM8, Waldorf Streichfett, Waldorf Micro Q, Kawai K5000W, Roland VS-1
Drums: Roland TD-8, Alternate Mode TrapKat
Software: Korg iMS-20, Apple GarageBand (iOS), Pro Tools
Various effectery and devices
Composed, Performed, and Produced by Paul E. Williams
Cover Photo by Angela Williams
Album Reviews
Jerry Kranitz for Aural Innovations
Hot on the heels of Church of Hed's Electric Sepulcher album is the 3-track The Autumn Shrine EP. If you read the interview with Paul Williams that accompanied my Electric Sepulcher review (CLICK HERE) you would know this was on the way.
The mainstay of the EP is the nearly 14 minute The Autumn Shrine (Parts I-III), which Paul describes as "Floyd rides a Camel to Berlin School", but also, tellingly, as "a requiem for Quarkspace". The piece kicks off with a combination of melodic Quarkspace-ish piano and Space-Prog keys and a beat that grooves along steadily for the first four minutes. The theme shifts to a pulsating electro pattern, swooshing synths and garbled voice samples with a cool blend of robotic syncopation and aquatic swish. I like the dark Mellotronic and electronica tension before developing into a Quarkspace meets Van der Graaf Generator motif that eventually smooths out to an uplifting Space-Symphonic finale.
Paul describes the relatively short Silicon Rogue as "Bob Moog meets Philip Glass", and the Glass analogy is immediately apparent with the repetitive pattern that creates a foundation for the melodic but intense piano melody that accompanies it. Finally, Transmixiom is described as "Brian Eno warps from 1975 to today with an appropriate bass response" and features a cool grooving blend of deep space ambience/soundscapes and cosmic dance grooves. With Paul living in the sticks of Kentucky and having achieved, it would seem, Quarkspace closure, we may be seeing a more frequent Church of Hed output. Cross your fingers…
Peter Thelen for Expose Online
The fourth Church of Hed release is this 22 minute three-track EP that kicks off with the amazing three-part title track which seems to channel Phaedra era Tangerine Dream with a side helping of Meddle era Floyd, clocking in at almost 14 minutes. While not a meticulous attempt to recreate the sound of either band, the influence of both are solidly felt throughout, and particularly effective in the Rick Wright-like opening piano passage sweetened by fat Moog swells, as well as the second section of sequenced synth madness with some interesting spoken samples at work just below the surface, while the intensity slowly grows, again returning to a Floyd-like zenith that could almost be an out-take from Atom Heart Mother without all the distracting orchestration; the piece closes returning to an extended electric piano figure with solid organ and synth backing fading into magical grandeur. Church of Hed is the workshop of composer and producer Paul Williams, former drummer and keyboardist with the band Quarkspace, which has been on hiatus for a few years now; the music herein is created solely using electronic drum kits, a dozen or so keyboards, and an array of effects – one won't miss the guitars at all. Following the opener there are two shorter cuts "Silicon Rogue" and "Transaxiom," the former plotting a Philip Glass-like piano figure over a web of criss-crossing sequenced synths, eventually fading away; the later is a more rhythmic workout with synth washes floating behind playful piano and synth melodies, perhaps reminiscent of early Kraftwerk or Neu, building into a swirling cauldron. Not a dull moment anywhere on this digital-only release.