Church of Hed — Rivers of Asphalt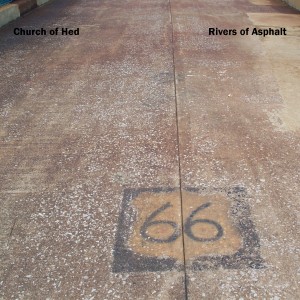 Buy it on CD or Digital from Bandcamp (Buy One Get 4.5 Free Deal!)
Buy it on CD or Digital Formats from CD Baby
Buy it on CD or Digital Formats from Amazon
A musical travelogue down today's Route 66 told through a heady mix of prog, electronica, and space. It is now available on iTunes, Amazon, eMusic, and other music services, as well as on CD directly from Eternity's Jest Records. Church of Hed is the solo project from Quarkspace drummer, Paul Williams. Rivers of Asphalt also features special guests, including Jay Swanson and Darren Gough from Quarkspace.
Rivers of Asphalt Track List:
1. Skyline 1:32
2. Open Road Illinois 8:34
3. Chain of Rocks 0:48
4. Coral Court 4:01
5. Meramec 2:22
6. Hooker Cut 6:46
7. Left Turn at Baxter Springs 2:27
8. Prairie Lights 2:59
9. Blue Whales Over Oklahoma 1:13
10. Prairie Vortex 2:12
11. Lucille 1:16
12. Prairie River 2:09
13. The Panhandler 2:49
14. Glenrio 2:18
15. Enchanted Mesa 6:09
16. Painted Desert and Mountain Sky 5:40
17. Mojave 5:48
18. Arroyo Seco 2:49
19. Santa Monica Beach 4:25
Album Reviews
Francois Couture for Monsieur Delire:
"This second album by Church of Hed (Quarkspace's Paul William's solo project) is much more satisfying than his first one. Rivers of Asphalt is a long journey along Route 66. This record is less electronica-sounding than the previous one and retains more of the spirit of Quarkspace. I have found on it a hefty dose of catchy tunes and trippy stretches. A fine production, available on CD-R or as a download."
Matt Howarth for Sonic Curiosity:
"This release from 2010 offers 66 minutes of electronic driving music.
Church of Hed is Paul Williams (from Quarkspace) on keyboards, synths, drumming, and loops. He is joined by: Greg Kozlowski (on guitar and synth), Steve Hayes (on synth), Jay Swanson (on synth), and Darren Gough (on guitar). The last two are also from Quarkspace.
The liner notes say: "a musical travelogue down today's Route 66 told through a heady mix of prog, electronica and space," and that's what it is–tuneage for the road.
The profusion of synthesizers affords this music a plethora of different sounds and styles, from twinkling keys to ponderous tones to sprightly passages of spacey airs. The electronics tend to be mostly keyboard oriented with progressive organ characteristics, relying on sparse use of textural backdrops and delivering melodies with nimble-fingered dexterity, often tinged with auxiliary riffs of haunting evocation.
The guitars often manifest in dreamy strumming passages reminiscent of spacey blues. At other times, they adopt sustained chords akin to glistening chrome.
Very little percussion can be found here. Necessary rhythms are achieved through the cyclic application of electronic pulsations. When actual drums do appear, the beats are relegated to the remote distance.
A versatile variety of compositions marks this release, offering apt interpretations of all sorts of roadways, from a languid tune of seemingly never-ending expansion ("Open Road Illinois") to the churning nature of steadfast velocity ("Arroyo Seco") to celestial ambience of a fluid quality ("Blue Whales over Oklahoma"). Many of the tracks are short, quickly capturing the mood of those motorways. And the majority of pieces are devoutly prog in their soothing definition. Auxiliary astral vapors emphasize the overall balmy moods achieved by this tuneage."
Chuck's review at Aural Innovations mostly gets it right about the grueling trek Route 66 was and is. That's what we were going after, especially in the Mojave Desert.