Church of Hed — Electric Sepulcher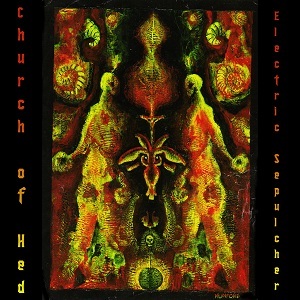 Buy it on CD or Digital formats from CD Baby
Buy it on Digital or CD from Amazon
Buy it on Digital or CD from Bandcamp (Buy One Get 4.5 Free Deal!)
Electric Sepulcher, Church of Hed's third album, features the kinetic electronica for which the band is known, combining loops and beats with organic playing, writing, and improvisation. Paul Williams plays all the parts on the album, everything from electronic percussion to analog synthesizers. The album is dedicated to the memory of the recently passed music legends, Daevid Allen, Edgar Froese, Dieter Moebius, and Chris Squire.
1. Eternal 2 1:30
2. The Moebius Wave 4:53
3. Electric Sepulcher 7:03
4. Glacial 3:42
5. East of Christopher 4:11
6. Godspeed You Alien Dingo 10:15
7. House Tron 2:47
8. Trace the Rubycon 5:09
9. Eternal 1 3:46
Cover painting by Christian Mumford
Synths: Moog Sub 37, Korg Z1, Korg Prophecy, Korg Volca Keys, Korg Volca Bass, Korg Monotron Delay, Yamaha MM8, Waldorf Streichfett, Waldorf Micro Q, Kawai K5000W, Kawai K4, Roland VS-1
Drums: Roland TD-8, Alternate Mode TrapKat
Software: Korg iMS-20, Korg iPolysix, Moog Animoog, Arturia iMini, Arturia iSEM, Arturia CS-80V, BFD, FL Studio, M-Tron, Pro Tools
Various effectery and devices
Album Reviews
Jerry Kranitz for Aural Innovations (with interview of Church of Hed's Paul Williams)
As Aural Innovations comes to the close of our eighteenth year of publication I have to admit that Electric Sepulcher has me feeling reflective and sentimental. The writing, printing and stapling in my home of the original hard copy zine was inspired by conversations with Paul in his former Oxley Road apartment here in Columbus, Ohio. Quarkspace was in high gear in those years, playing frequent live shows in Columbus and were a regular presence at the Strange Daze Space Rock Festivals. My fondest Quarkspace live performance memory was when they played a killer show of about 4 hours straight at the Thirsty Ear Tavern without ever taking a break and ended up blowing out the bar's sound system. They were not invited back.
Add to that the Electric Sepulcher cover art by Christian Mumford, the first ever contributor to Aural Innovations, who's amazing art work graced nearly every printed issue of the mag and I'm feeling pretty damn good.
The first thing visitors to churchofhed.com see at the top of the page is the following description: "Forward looking aural travelogues expressed in progressive, psychedelic electronica and rock. Beats. Loops. Songs. Improv. Large-form compositions. Hyper-kinetic playing. 21st Century Berlin School meets spacerock and prog."
I'd say that absolutely nails the music on Electric Sepulcher. The album is a luscious instrumental journey that consists of quirky spaced out electronica, Space-Prog symphonics, sci-fi soundtrack and electro grooves. Paul excels at seamlessly blending disparate styles and influences, and the thematic development throughout the set is among his best yet.
The brief introductory Eternal 2 is a surreal mash up of quirky melodic looped, and backward efx'd synths and keys, which leads into the first full song, The Moebius Wave. The commanding piano melody recalls Quarkspace and is accompanied by freaky alien effects which are part of an overall darkly intense orchestral Space-Prog theme. The title track features trademark Church of Hed electronic rhythmic and melodic quirkiness, which sounds very cool when combined with the eerie sci-fi ooh-wee-ooh effects, Mellotronic waves, and Jazz-Prog electric piano melody. Listen close and you'll hear what seems like a strange array of stylistic components that Paul brings together into a cool grooving Space-Prog-Jazz whole. Glacial is a morphing of 1960s sci-fi TV show theme, darkly rumbling electronica and high intensity Prog. East Of Christopher features more rug cutting electronic quirkiness and sci-fi theme vibes.
Godspeed You Alien Dingo is the 10 minute epic of the set and where Paul's thematic development skills really shine. It kicks off with a few minutes of meteor shower space synths and cosmic Mellotron wave, before transitioning to a combination of syncopated electronic pattern, alien effects, and a beautiful dual combination of gently pleasant piano and spaced out synth melody. After a while the piano becomes more darkly intense, while effects flitter about and we set into a groove that recalls Berlin School Kosmiche, though the piano continues to lead the way. After settling in for a peaceful landing we launch headlong into the hurly burly of the dance floor space raving House Tron. Trace the Rubycon is a meditative combination of Berlin School quirk and beautifully tinkling melody, but also Quarkspace styled intensity. Finally, Eternal 1 closes the set with a blend of electronica, effects and ethereal voice samples.
Matt Howarth for Sonic Curiosity
This 2015 release features 43 minutes of bouncy electronic music.
Church of Hed is Paul Williams (from Quarkspace).
A tasty dose of bouncy electronic tunes.
While being versatile, these electronics also comport themselves with a touch of spry humor. (Not outright silly humor, but suffice it to say this music lacks the taking-itself-too-seriously intellectualism practiced by many purveyors of contemporary electronic music.) There's a nice balance of background layers supporting a bevy of centerstage keyboard riffs, which sidereal effects are frequent-everything blending to formulate some appealing tuneage.
Williams' simultaneous use of high-end squeals and pensive bass sounds results in a nice contrast that runs through many of these instrumental songs.
Much of the melodies' components come in the form of nimble-fingered keyboards, crafting riffs that vary and mutate rather than engage in endless looping.
While rhythms play a strong role here, the beats are not always percussive in origin. Several times, tempos are generated by the rapid cyclic use of non-impact sounds (usually synthetic in nature). But then, there's real percussion going on too, electronic in some spots, organic beats in others.
These compositions explore a buoyant sentiment. Often tinged with eerie undertones, the songs sway and cavort along, teasing the forebrain with potential consequences, while goading some to actually get up and dance a little. Not that this stuff is techno; it just shows a luscious balance of pulsate and bounce.
To be fair, not every song is an energetic outing. A few are spacey excursions into moods-hardly low-key, just not as frenetic as everything else.
Peter Thelen for Expose
Paul Williams is the drummer, synthesist, and producer of Quarkspace, but with that band now seemingly in hiatus (their next regular album was supposed to be released in 2010, but never was, although their excellent Spacefolds series of band improvisations, now numbering a dozen, continued through 2013) Williams' primary outlet is now his solo electronic project Church of Hed, of which Electric Sepulcher is the third release. While the compositions on the nine cuts herein are clearly in the progressive rock vein, the arrangements are more informed by space rock, Berlin school electronica (Klaus Schulze, Kraftwerk, and Neu! most prominently), as well as American synthesists like the late Michael Garrison. Much of the material is textured and built upon layered sequences, with shifting and dreamy melodies simmering above it all. Then again, of the more 'space rock' oriented material, "House Tron" will provide the listener with a solid example. Being a drummer as well as a keyboardist (yes, Klaus Schulze was also…) Williams' electronic drum kit fits in well with the all-electronic arrangements, yet provides a certain distinguished percussive sensitivity that seems to be lacking in the work of many other keyboardists who don't have that same background. The title track seems to explore a more avant-garde path that might fit in well in the motion picture soundtrack realm, with it's dark and menacing underpinnings, and yet all the while finding a sensory groove that moves forward steadily as the piece proceeds through its seven minute duration. Farther out from that, we have "Godspeed You Alien Dingo" that opens with its bubbling textures swirling above and below the less active washes that flow throughout that part of piece, eventually settling into a sequenced pattern with melodic piano highlighting the journey, eventually morphing into the structure of the piece while lush sequences and soaring synth dweedles continue throughout. If you miss the old days when electronic music was progressive and innovative, and not just a brain-dead wallpaper of 4/4 dance beats, then Electric Sepulcher is definitely worthy of exploration.
Pete Pardo for Sea of Tranquility
(4 stars out of 5)
Church of Hed is the alter ego/side project of Quarkspace drummer/keyboard player Paul Williams, and Electric Sepulcher is the third album from the Hed, originally released in 2015. Dedicated to the memories of Daevid Allen, Edgar Froese, Dieter Moebius, and Chris Squire, all whom passed away last year, Williams plays all the parts on the album in loving fashion, creating a swirling, intoxicating blend of ambient, electronica, and space rock styles that will thrill your senses. For the album, Williams utilized this equipment:
Synths: Moog Sub 37, Korg Z1, Korg Prophecy, Korg Volca Keys, Korg Volca Bass, Korg Monotron Delay, Yamaha MM8, Waldorf Streichfett, Waldorf Micro Q, Kawai K5000W, Kawai K4, Roland VS-1 Drums: Roland TD-8, Alternate Mode TrapKat Software: Korg iMS-20, Korg iPolysix, Moog Animoog, Arturia iMini, Arturia iSEM, Arturia CS-80V, BFD, FL Studio, M-Tron, Pro Tools
Not surprisingly, an album like this is best listened to through headphones, allowing a tune such as "Godspeed You Alien Dingo" to take you to deep, dark space and planets uninhabited, as layers of bleeping, bubbling synths and an array of percussion sweep you away like a head on collision between Tangerine Dream and Hawkwind. The creepy yet upbeat title track mixes Moog and Fender Rhodes to great effect, as trance meets space rock meets jazz-fusion, while the Mellotron sounds come out to combat dance beats on the wild "House Tron". The more majestic "Trace the Rubycon" features Williams' always excellent drum skills supported by lovely synth & piano melodies for one of the albums more prog rock styled compositions.
If you are a synth enthusiast, there's plenty to enjoy here on Electric Sepulcher, an album with many layers that is just seeping with space rock, psychedelia, ambient, electronica, and proggy goodness.